Case study
Byblos boosts creative potential with Fujifilm Acuity Prime investment
Highlights
Byblos invested in an Acuity Prime 30 Flatbed printer.
The decision was driven by the company's dedication to superior quality.
They have used the press to print on unconventional materials such as wood composite and glass.
The finishing techniques such as satin and gloss have been received well by clients.
The company are impressed by the exceptional adhesion and vibrancy of the ink.
Byblos is enthusiastic about being able to to meet evolving client needs.
The Acuity Prime 30 investment is transforming our business. With its unmatched print quality and the ability to work with diverse materials, we have exceeded our clients' expectations.
Alessandro Conte | Byblos
Byblos, an industry leader in high quality print production, founded in 1992, has recently made a strategic investment in Fujifilm's Acuity Prime 30 wide format flatbed printer. This acquisition has allowed the company to attract a broader customer base, win new business opportunities, and position itself for continued success in meeting customer demands for high quality and customised wide format printing.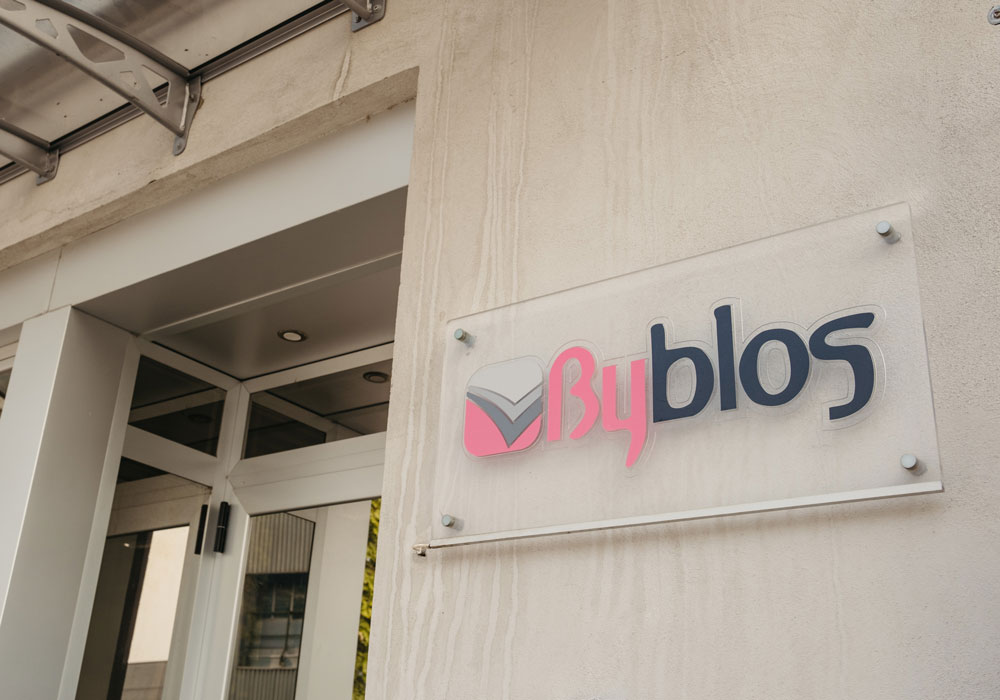 With a firm commitment to delivering exceptional wide format printing solutions, the Acuity Prime, installed in May 2023, is the latest addition to their advanced production line-up. Equipped with seven ink channels, CMYK, White, Clear, and Primer, and powered by the ColorGATE RIP, the new printer is empowering Byblos to expand its production offering to include unconventional materials such as wood composite and glass.
The decision to invest in the Acuity Prime 30 was driven by Byblos' dedication to superior quality and the opportunity to experiment with different types of media and finishing techniques – such as being able to achieve a satin or glossy finish. According to Alessandro Conte, Managing Director of Byblos, these capabilities have been very well received by their clients. Furthermore, the excellent support provided by the Fujifilm team played a significant role in solidifying the partnership.
Conte is enthusiastic about the investment: "The Acuity Prime has transformed our production process and elevated our ability to meet the evolving needs of our clients. Its impressive speed and remarkable quality have exceeded our expectations. We can now deliver personalised, high-quality printing in shorter turnaround times, and unleash our creativity by printing on unconventional materials. This gives us a competitive edge in the market."
The Acuity Prime 30's remarkable ink quality enables Byblos to work with a wide array of materials, including various metals and glass, when using a primer. The ink demonstrates exceptional adhesion, with stunning precision and vibrancy in every print. And the durability of the ink allows it to withstand the effects of chemicals and cleaning agents, ensuring longevity and exceptional print quality.
Alessandro Conte, Managing Director of Byblos, concluded: "The Acuity Prime 30 investment is transforming our business. With its unmatched print quality and the ability to work with diverse materials, we have exceeded our clients' expectations. This investment has not only fuelled our growth but has also solidified our position as a leader in the industry."
Daniele Carino of Fujifilm Italy added. "The Acuity Prime 30, part of Fujifilm's 'new blueprint for wide format' has been exceptionally well received since it was launched two years ago. It was built to deliver versatility, value and ease-of-use, and we're delighted that Byblos has become the latest company to recognise its potential and take advantage of it."
Acuity Prime 30
Find out more about why the Acuity Prime 30 can achieve industry leading productivity and quality
Discover the Acuity Prime