Read the Article
Reading time: 7 minutes
In the commercial print market today, analogue printing processes, especially lithographic offset, still rule in terms of the volume and value of materials printed. However, that volume and value are falling as demand rises for personalised materials printed on demand and in smaller but more frequent numbers. These demands can only be met by digital print.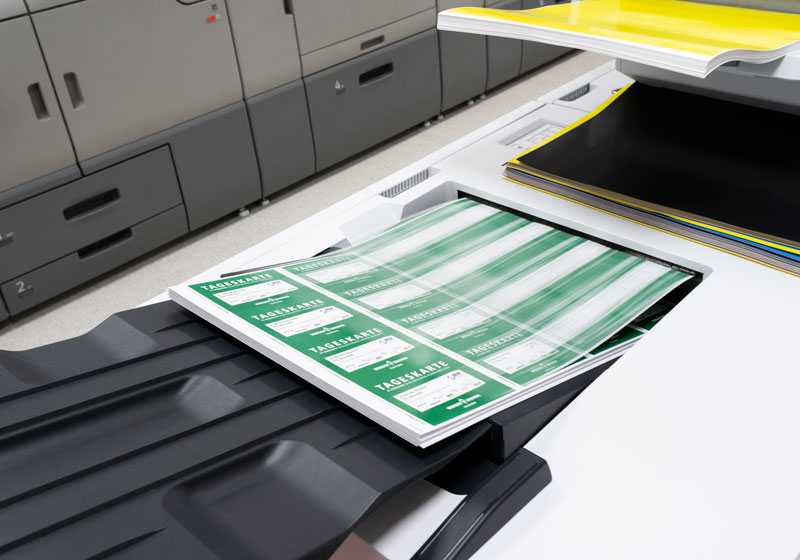 Market researcher Smithers tells us that in 2032 digital print will be worth $230.5 billion, accounting for almost a quarter of the global value of all print and printed packaging. This is a little under 3.0 trillion A4 prints, an increase of 68.6% on the 2022 market. [1] And within that figure for digital printing, inkjet accounted for 61.4% of digital print value with 62.4% of volume in 2022. This will increase to 74.1% of value and 77.5% of volume in 2032.[2]
As the commercial print sector continues to digitise, businesses have a choice when it comes to the best digital print technologies to take them forward. For some, the speed and quality of inkjet will be paramount, while for others, the added flexibility of toner and the ability to print special colours and special effects for creative applications will be of greater utility.
For many, a combination of both technologies will be the answer.
Fujifilm is unique in offering best-in-class solutions and decades of experience in the development of both inkjet and toner technologies, so whichever digital path a company takes, Fujifilm has both the product portfolio and the expertise to support.
Furthermore, Fujifilm's analogue print heritage means that it understands the process and challenges of introducing digital print technologies into a business in a way that digital-only rivals cannot.
When all these factors are considered, there is no better partner in the market to support with digital transformation.
The Fujifilm inkjet story
The story of Fujifilm and inkjet technology is a story in many parts. There are the printheads; the UV and water-based inkjet inks, and the sophisticated integration and optimisation technologies that tie it all together. Fujifilm inkjet technologies power printing solutions like the Jet Press 750S, which has been setting the standard for quality and reliability in digital print production in the commercial sector for a decade, as well as a range of inkjet production solutions for the sign and display and label and packaging sectors.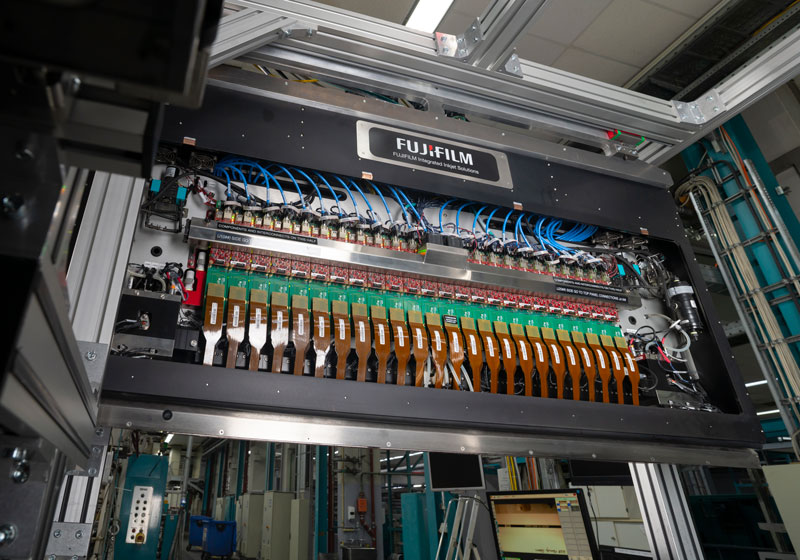 Printheads
Fujifilm Dimatix is one of the most recognisable and respected brands in inkjet printhead development. The company began in 1984 as Spectra, Inc., a very early pioneer of industrial inkjet printheads. In 2005 it changed its name to Dimatix before being acquired by Fujifilm the following year. Fujifilm itself is renowned for its history of innovation, particularly the way in which it rapidly diversified when the bottom fell out of the photographic film market in the early 2000s. That drive to innovate has continued apace, and the acquisition of Dimatix was part of Fujifilm's strategy to build arguably the strongest and most diverse inkjet technology platforms in the industry.
Water-based inkjet inks
Fujifilm is one of the few companies in the world with significant R&D and manufacturing capabilities in both water-based and UV inks for the commercial, wide format and packaging sectors.  Fujifilm's development of water-based inks for commercial applications in particular began in earnest in 2005 with the acquisition of Avecia's Inkjet Business. A specialist in the development and manufacture of high performance dyes, pigments and colorants, Avecia (now Fujifilm Imaging Colorants) was founded in 1985 with the launch of the first generation of high purity inkjet colorants, and by 1994 it had built the world's largest digital aqueous ink manufacturing facility in the USA.
With the 2005 Fujifilm acquisition and the massive investment in R&D that followed, more recent developments have produced a raft of new capabilities, including photo-grade dyes for image permanence of 50+ fifty years, proprietary reactive dispersant technologies, and the development of ultra-high performance aqueous inks for Fujifilm's flagship B2 inkjet press, the Jet Press 750S.
Fujifilm Imaging Colorants, as a result of this consistent and continuous innovation, is a business that has grown to be the world's largest manufacturer of aqueous inkjet fluids.
The Fujifilm toner story
It may not be widely known to a European audience, but Fujifilm has a long history of introducing innovative toner-based office copiers, monochrome printers and full colour commercial printing systems, alongside significant document and business service solutions. Historically this technology was developed through its Fuji Xerox subsidiary, now called FUJIFILM Business Innovation Corporation.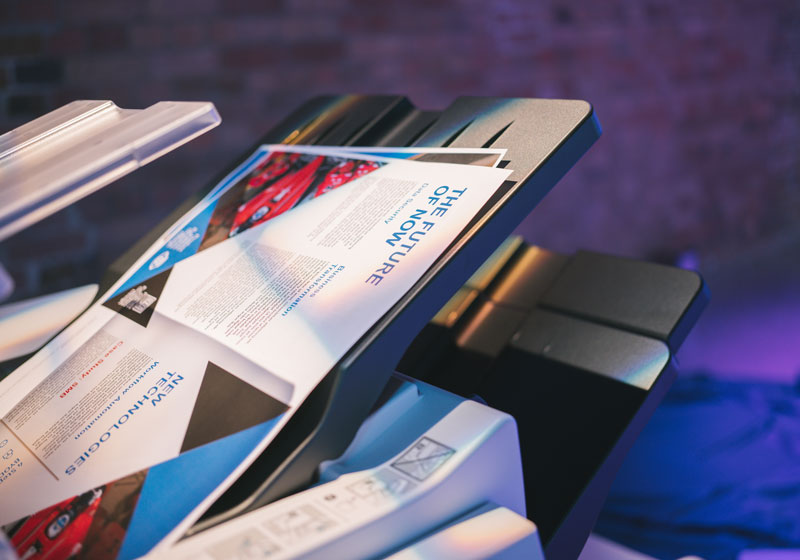 Although initially a joint venture with Rank Xerox (later Xerox), the business was consolidated to the Fujifilm Group in 2001 when it acquired 75% of the equity, and became a wholly owned Fujifilm subsidiary in 2019 when it acquired the final 25%.
In the last 60 years since, Fujifilm has developed world-leading expertise in toner-based technologies, which now include the high performance EA-Eco toners and fusing systems, the laser imaging and registration systems, the screening and smoothing algorithms, and the finishing and post-processing systems. Many of these technologies are best-in-class, resulting in industry-leading printer performance.
Fujifilm toner technologies
Just as with its inkjet offering, Fujifilm's ability to bring award-winning toner press solutions to market stems from its fundamental technology expertise, and its ability to bring them together into leading production solutions.
This new range takes full advantage of Fujifilm's leading heritage in toner-based print production, along with the company's deep understanding of both offset and digital print, to create production printers that deliver industry-leading performance. They combine high print speeds, superb finishing flexibility, industry-leading colours and enhancements, and of course superb print quality.

The flagship press in the range is the Revoria Press PC1120, which features an advanced print engine and the choice of 10 colours, including gold, silver, white, pink & clear, easily configurable into six before and after CMYK stations. With industry leading print quality, incredible media & finishing versatility, and the largest colour gamut, this award-winning press has made a huge impact in the short time since its phased European launch, giving designers and brands the freedom to create high value print using special colours over short or medium run lengths. With the silver and gold metallics, and the white and special colours and effects available, designers can meet the demands of luxury brands looking for added value print collateral that can be produced economically in very short runs. In addition, Fujifilm-engineered AI image enhancement means that photographs are auto-enhanced at the printing stage, meaning much less time is required to manually re-touch images.
Bringing it all together
In the modern print marketplace, the only real way to stay competitive is by adding value. Whether that is through creative applications, special effects or simply through ultra-high levels of quality. As consumers reach new levels of digital saturation, print offers more targeted, high-value opportunities.
The focus at Fujifilm is to ensure that we are helping our customers right across the industry take full advantage of those opportunities. Every business has a unique set of challenges and each will have different technology and support requirements to meet and overcome those challenges. That's why we've developed our portfolio to span the entire market, from analogue to digital, from toner to inkjet, so we can partner with print businesses at every stage of their digital print journey – from those yet to make their first digital print investment, to businesses that have already phased out analogue altogether.
Discover the best of inkjet. Discover the best of toner. Discover the difference with Fujifilm.
[1],[2] The Future of Digital Printing to 2032, Smithers Information Ltd, 2022
Commercial Printing
Click here to discover our unrivalled range of inkjet and toner solutions
Visit sector